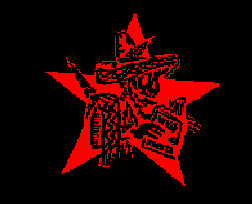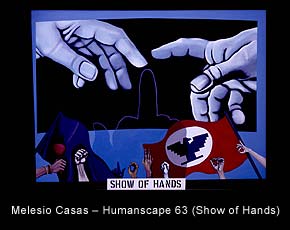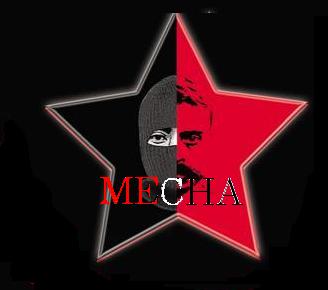 Viva Purepecha!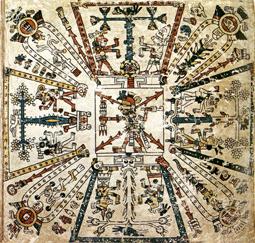 Long Live the Poeple of the Sun
Juana Estrade, MEChista, works at the 2004 MEChA
Convetion for Social Justice
Colombian Trade Unionists on Hunger Strike at Coca-Cola Plants

By Staff

On Monday, March 15, Coca-Cola union workers in Colombia began a hunger strike in front of the Coke bottling plants in Barrancabermeja, Bogotá, Bucaramanga, Cali, Cartagena, Cúcuta, Medellín and Valledupar. Juan Carlos Galvis, vice-president of the union in Barrancabermeja, has said, "If we lose the fight against Coca-Cola, we will first lose our union, next our jobs and then our lives." William Mendoza, president of the union in Barrancabermeja, said, "This is the final battle and we're giving it all we've got. We need all supporters of human and labor rights in the U.S. to do the same!"

Coca-Cola has been the subject of an international boycott since July 22, 2002. The Colombian Action Network (CAN) has been leading the boycott in the United States. They have been organizing the boycott in communities and on college campuses across the country. Meredith Aby, of the Colombia Action Network, explained, "We called for an international boycott against Killer Coke for their hiring of paramilitary death squads to murder, threaten and kidnap union leaders. Nine union leaders at Coca-Cola have been killed in Colombia. It is the most dangerous place to be a union leader in the world."

Aby continued, "On average, three trade unionists are killed every week in Colombia! The Colombia Action Network stands in solidarity with the Colombian labor movement in their fight for the right to organize. We criticize the U.S. government for the $3 billion in military aid they have given to the Colombian government since 2000. Both Amnesty International and Human Rights Watch have documented that these funds have gone directly to support the right-wing paramilitary death squads, which are the same organizations attacking the workers at Coca-Cola's plants in Colombia."

On Sept. 9, 2003, Coca-Cola FEMSA (Coke's largest bottler in Latin America) closed the production lines at 11 of their 16 bottling plants in Colombia. The Coca-Cola Company shares several board members with Coca-Cola FEMSA and owns 46.4% of its voting stock. Since then, Coca-Cola FEMSA has pressured more than 500 workers into 'voluntarily resigning' from their contracts in exchange for a lump-sum payment. Most of the union leaders refused to resign and the company is escalating the pressure against them. On Feb. 25, the Colombian Ministry of Social Protection (Labor) authorized Coca-Cola FEMSA's plans to dismiss 91 workers - 70% of whom are union leaders. This would essentially eliminate the union.

The union is calling for Coca-Cola FEMSA to relocate those workers to other positions within those plants or to transfer them to other plants. This is what the company is required to do, according to Articles 18 and 91 of the current collective bargaining agreements. In January, a Colombian judge also ordered the company to do this for the workers at the plants in Barrancabermeja and Cúcuta.

In a communiqué from the Coca-Cola workers' union, SINALTRAINAL, President Luis Javier Correa Suarez said, "We're doing this (hunger strike) to denounce, nationally and internationally, that nine Coca-Cola workers have been killed and 67 have been threatened with death; and that we've been the victims of attempted murder, kidnappings, forced displacement, and the burning of one of our union offices by the paramilitaries. This has forced many workers to resign from the union. We're also denouncing the unjust termination of employment contracts, the use of illegal confinement to force workers to resign, the subcontracting of more than 88% of the workers and the impact this has had on living conditions and the attempt by Coca-Cola to eliminate rights in the negotiations of collective bargaining agreements as has been occurring since March 1 of this year."

"We, the workers affected by the closure of the production lines, are continuing to resist. But, given the grave aggression that we're continuing to suffer, there's no other recourse but to declare a hunger strike and demand that Coca-Cola respect the law, and fulfill the legal resolution passed by the judge in January 2004 to protect the right to work and require Coca-Cola to relocate the workers in other positions. We're also demanding the fulfillment of the collective bargaining agreement by relocating the workers in other positions, an end to the repression, and respect for our human rights."

Tom Burke, of the Colombia Action Network, urges supporters of the right to organize to contact Coca-Cola immediately. "This is an emergency! We need action! This may be the final show down between the Colombian workers' union, SINALTRAINAL, and Coca-Cola. This is an important time for an overwhelming response from the grassroots. People who are concerned about the rights of Colombian trade unionists must call Coca-Cola to demand that they recognize the union and the rights of workers!"

To contact Coca-Cola and send a message of solidarity with the unionists go to www.colombiaactionnetwork.org
Students march for rights
MEChA organizes event in support of farmworkers' right to unionize

By BECKY WALDROP
Gazette-Times reporter

The voices of hundreds of Chicano college students filled the air Friday afternoon in a march down Ninth Street in support of Oregon farmworkers' right to unionize.
The chant "Si, se puede" (Yes, we can), made famous by civil rights and labor leader Cesar Chavez, was as unrelenting as the rain that soaked through sweatshirts and streaked posters demanding an end to sweatshops in the field and urging support for people who harvest crops.

Marchers stretched out for nearly a block as they walked the two-mile route, taking up one northbound lane of the busy street.

Corvallis police and state troopers handled traffic control for the event orchestrated by MEChA, the Chicano student organization that is holding its national conference at Oregon State University this week.

Police said the march was well panned, and there were no problems, other than a six-minute traffic delay at cross streets and an unrelated streaker near the end of the march.

When the estimated 700 marchers reached the Taco Bell restaurant near the north end of Ninth Street, participants called for a boycott of the fast food franchise, which buys tomatoes from a Florida supplier that farmworkers have struggled to unionize.

Organizers said they wanted to call attention to the struggles of workers at Threemile Canyon Farms dairy in Boardman and in Immokalee, Fla., tomato fields.

"No union, no peace," people shouted.

But in the moment of solidarity, a tall, thin white man wearing nothing but socks and athletic shoes captured onlookers' attention. He darted out from the McDonald's parking lot across the street from Taco Bell and ran across traffic and through the march.

Police were busy directing traffic and did not pursue the man.

MEChA members from college and high school campuses all over the United States are in Corvallis this week to attend workshops and develop a plan of action. MEChA representatives say they want to empower communities to combat legal and educational institutions that have oppressed Chicanos.

Friday's event was a peaceful protest, where children walked hand in hand with parents and students waved and said "Thank you" to drivers inconvenienced by the march.

It was the second large protest in Corvallis in less than a week. Last Saturday, more than 700 people demonstrated against the war in Iraq.

Organizers of Friday's march instructed participants gathered in the staging area on the lower campus near 11th Street and Monroe Avenue to take their time as they walked.

"We don't need to rush. This is a peaceful march," someone said over a loudspeaker. "We have a right to be here on the street."

Corvallis Mayor Helen Berg, City Councilors Rob Gandara and Tina Empol and Benton County Commissioner Annabelle Jaramillo marched with the students and farmworkers.

Lorenzo Correa, 21, was the only representative from the University of Idaho. He made the trip from Moscow by car and said that he was proud to be part of MEChA because of its stands against discrimination. At the University of Idaho, MEChA protested against a white supremacy group, Correa said.

Luis Martinez, 21, a pre-medical student from Ohlone College in Fremont, Calif., carried a sign that said "Safe working conditions." His friend Yesabel Inga, 20, a psychology student from Chabot College in Haywood, Calif., held a sign that said, "Education for all."

Workers' rights and education are two important issues to MEChA members, Inga said, adding that it felt good to be surrounded by hundreds of people who believe in farmworkers' rights to unionize.

"There's good energy," Inga said. "All of us are uniting to fight for one thing."

Becky Waldrop covers public policy and education for the Gazette-Times. She can be reached at waldropb@gtconnect.com or 758-9510.
For Immediate Release Contact: Erica Bernal, 213-747-7606, ext. 111

March 17, 2004 Larry Gonzalez, 202-546-2536

NATURALIZATION FEE COULD INCREASE AS EARLY AS APRIL 15

Legal permanent residents are encouraged to apply before fee hike takes effect

Los Angeles, CA - The price tag on U.S. citizenship could increase as early as April 15, according to the National Association of Latino Elected and Appointed Officials (NALEO) Educational Fund. Based on information obtained from the United States Citizenship and Immigration Services (USCIS), the NALEO Educational Fund believes that the fees for starting the naturalization process will soon jump from $310 to $390, a 26% increase. The NALEO Educational Fund urges all eligible legal permanent residents to apply for U.S. citizenship as soon as possible before the new fee goes into effect.

According to NALEO Educational Fund Executive Director Arturo Vargas, While we cannot be certain of the exact date, the USCIS seems committed to putting the new fee in place within the next month. U.S. citizenship provides immigrants with some important opportunities the right to vote, the right to unify their families faster, and the right to a U.S. passport. With the recent news about the increase, now is an excellent time for eligible newcomers to start the application process.

Mr. Vargas continued, We are very disappointed that the USCIS has not given potential applicants and the agencies that serve them more notice of the effective date of the increase. The USCIS proposed the fee hike barely a month ago, and it should be reviewing public comments and concerns about its proposal, so it is far too early to consider imposing the increase on applicants. Many newcomers work hard to save the money to pay the naturalization fee, and they need sufficient time to plan their finances. Community-based organizations need adequate notice to conduct outreach and public education about the increase. In the past, the USCIS has given at least two months notice and even longer after finalizing naturalization fee increases before putting them into effect.

Mr. Vargas concluded, The agencys plan to fast-track this increase is unfair and completely inconsistent with its promise to improve customer service. In recent statements, President Bush has noted that U.S. citizenship should provide a meaningful opportunity for newcomers to learn about our countrys values. Immigrants who naturalize share those values, and they are eager to demonstrate their commitment to this nation. But the USCIS hasty action on the fee hike shows the worst face of our government to our newcomers when it should be showing its best. This is just not the message we should be sending to the thousands of immigrants who want to embrace the dream of U.S. citizenship and become full participants in our democracy.

Legal permanent residents who need assistance with applying for U.S. citizenship should call the NALEO Educational Fund at 1-800-34NALEO (1-800-346-2536). Applicants in Los Angeles County may also be able to obtain interest-free loans to cover the application fee.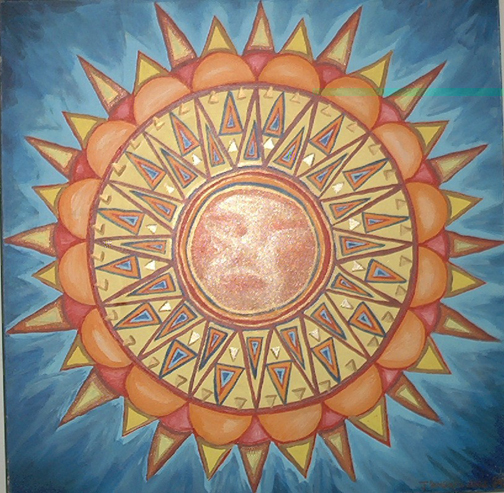 Lalo Lopez Alcaraz:
Cartoonist of "La Cucaracha"
> > To whom it may concern:
> >
> > With the help of conservative KFI-640 AM talk show host Al Rantel,
> > the UCLA Bruin Republicans raise $28,000 to fight MEChA, a Chicano
> > student group and get it off campus by presumably run attack ads in
> > the campus newspaper...
> >
> > How many young Chicano high school students from humble economic
> > backgrounds could have been informed about opportunities available in
> > college with $28,000?
> > How many poor high school students in Pacoima, South Central, Boyle
> > Heights, Commerce, East L.A. could be tutored in college prep classes
> > or SAT preparation with $28,000? How many textbooks, tuition, or
> > other college costs could be paid with this money?
> >
> > I'm sure it must be wonderful to be born with lots of advantages, and
> > be able to go to college, but for a large section of our community,
> > it's no cakewalk. Apparently, some of these campus junior Republicans
> > really take it for granted.
> >
> > I call on the UCLA Republican campus group to donate this $28,000 to
> > an inner city social welfare organization, or an educational
> > assistance funding group, or to even go PAY THEMSELVES to go tutor
> > poor high school students in the barrio.
> >
> > It's what grownups would do. And I'm sure it's what the California
> > State Republican party would want them to do, instead of making
> > Republicans look like extremely unsophisticated political neophytes.
> >
> > But, hey, go ahead, attack MEChA, attack Chicanos, attack Latinos. It
> > only makes us angrier, and it only justifies our world view. But you
> > could flip that view on its head, and donate that $28,000 and even
> > more, to poor Latino kids  struggling to make their lives better.
> >
> > lalo alcaraz
> > http://www.lacucaracha.com
> > SDSU MEChA, 1982-87
> > UC Berkeley MEChA, 1987-90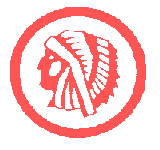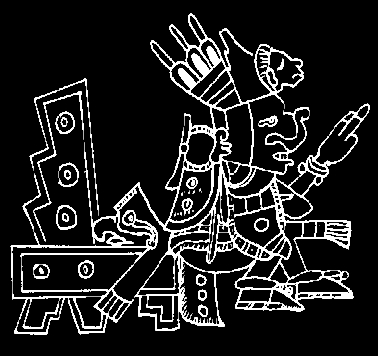 White Supremacists Beat Raza To Death.
The Alta California Spanish speaking media in Los Angeles is now reporting that the heinous bludgeoning to death, on Sunday February 1 in Fremont, California, of Maria Esperanza Hernandez and of her daughter Maria del Carmen Castillo Hernandez, both undocumented immigrants, was the work of anti-Mexican vigilantes. Fremont police detectives are calling it a possible "hate crime" and are asking the public for help in solving the cowardly crime. Fremont, California is about 15 miles north of San Jose and has a reputation of harboring racist and violent white supremacists. The 210,000 population of Fremont is 42% White, 37% Asian, 13% Latino and 8% Other. The largely affluent community contains gangs of white shiftless youths known to harass Mexican immigrants who take the bus or walk to the town to work in menial jobs. On Sunday February 1, 39 year old Maria Esperanza Hernandez, of Central Mexico, left her home at 2:30 in the morning, accompanied by her 19 year old daughter for a long walk to work in the laundry room of the Fremont Care Center. The daughter, Maria del Carmen Castillo Hernandez, had accompanied her mother for safety reasons because Maria Esperanza Hernandez was unable to obtain a driver's license due to her undocumented status and because she had missed her ride. At approximately 5 in the morning residents were awaken by blood curling screams from the mother and daughter who were being clubbed to death in the street. One resident was able to come out in time to observe a white youth in his twenties standing over the dead bodies of the Mexican mother and daughter. The witness also observed a car with three men inside just watching the brutal murder. The witness said that the youth than ran and the car sped away, turning its lights off. Next to the two bodies the murderer left a bloody wooden club he used to bludgeon the mother and daughter to death.
this case is just one of many that are becoming disturbingly common in Alta California and that are a consequence of the ever louder racist agitations by anti-Mexican bigots such as Glenn Spencer and Congressman Tom Tancredo of Colorado. One particular savage murder in this category was the dragging death of a tomato worker from Oaxaca, Mexico that occurred on July of 2000 in the Carmel Valley of the City of San Diego. The incident included the cruel and brutal beatings of 5 other elderly workers that worked in an area's nursery. The criminals were 8 young white thugs that lived in the affluent homes of Carmel Valley. The hoodlums were essentially protected by the white judge and merely given a slap on the wrist. They were charged for the beatings but never for the dragging death of the undocumented tomato worker from Oaxacans:
For more info visit www.aztlan.net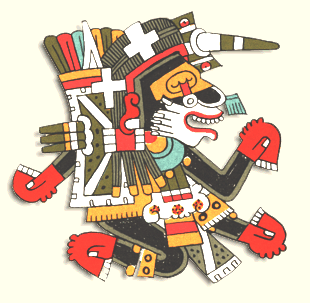 FROM UNIVERSAL PRESS SYNDICATE

FOR RELEASE: WEEK OF FEBRUARY 20, 2004

COLUMN OF THE AMERICAS by Patrisia Gonzales and Roberto Rodriguez

CUAUHTEMOC HAS LANDED

NOTE: There is an acute accent above the final "e" in "Pope" in graf two.)


Shortly after Cuauhtemoc was put to death by Cortez in 1525, the body of the
last "tlatoani," or speaker of the Mexica, was surreptitiously spirited to his
birthplace of Ixcateopan, Guerrero, Mexico. For more than 400 years, the
people of Ixcateopan held on to this closely guarded secret, finally revealing it
in 1949.


Today, his bones are on display there inside a 17th-century church, a humble
resting place and a site of pilgrimage to Mexico's greatest symbol of
indigenous resistance. Cuauhtemoc, or "descending eagle," is to Mexico what Sitting
Bull is to many native peoples of the north, what Pope is to the Pueblos of the
Southwest, and what Tupac Amaru is to South America.


Archaeologists and anthropologists dispute the authenticity of the bones. Yet
his annual honoring there (and throughout Mexico and the United States) on
his birth date, Feb. 23, 1520, represents not a battle over authenticity, but
over the right of indigenous peoples to define their own peoplehood and write
their own narratives.


A similar dynamic is playing out across the continent. Governments
traditionally have taken it upon themselves to define who is native and who isn't. In
some countries, anthropologists and archaeologists answer these questions.


In the United States, a similar dynamic has been taking place for decades
regarding people of Mexican, Central and South American heritage. Here, census
officials have simultaneously "converted" these primarily indigenous populations
into Caucasians and aliens.


Yet a movement has arisen here that challenges this "demographic genocide."
Part of this movement includes viewing these populations as aboriginal and part
of an indigenous continent. This is not a negation of mixture. Quite the
contrary. It's an affirmation that despite mixture, they and the continent remain
indigenous.


Jack Forbes, one of the nation's foremost native scholars
(Rappahannock-Powhatan), has long argued that Mexican Americans are indigenous. In his
groundbreaking work "Aztecas del Norte: The Chicanos of Aztlan," he affirms that mixture
does not disqualify a person from being indigenous. If that were the case, no
one could claim to be anything, as virtually everyone is mixed, or "mestizo."


Despite this, the census has long insisted that these populations are not
native, but white. At the same time, society has insisted that they're also alien
(as evidenced by the periodic anti-Mexican and anti-immigrant movements).
Both of these notions have created an unwanted population.


For example, the extreme right wing has recently taken to picking on MEChA
(Movimiento Estudiantil Chicano de Aztlan), claiming that the student
organization is a hate group (UCLA is the latest battleground). However, a quick check
of the Southern Poverty Law Center's Web site, which tracks hate groups,
reveals not MEChA on its list, but instead the very same organizations doing the
pointing. Additionally, these organizations question the indigenous character of
people of Mexican/Central American heritage -- claiming that they've invented
their heritage to a supposed mythical homeland located in today's Southwest.


Yet Chicanos did no such inventing, nor did they invent divisive Western
geography. Hundreds of maps, chronicles and codices prior to 1848 point in this
direction. So do oral traditions, as well as linguistic (Uto-Azteca) and
cultural evidence that firmly plant people of Mexican/Central American heritage not
in one but all directions. Truthfully, all the evidence points to maize as the
only legitimate "map" needed to prove indigenousness to this continent or, as
Yaqui scholar Vivian Delgado terms it, to one single Turtle Nation.


For those who question this, Forbes' "Aztecas del Norte" is a good place to
start. Though published in 1973, he had been writing on this topic since 1961,
when he was part of the Movimiento Nativo Americano -- which recognized people
of Mexican origin as "Anishinabe," or indigenous. Not everyone accepts this.
Some believe the indigenous category should not apply to peoples of the south.
Others invoke some form of blood quantum purity (which is actually a formula
for extermination). Yet despite these protestations, all peoples have the
inherent right to determine their own identity.


This year, the National Association of Chicana/Chicano Scholars is joining
this movement as it will create an indigenous caucus within the organization.
They will be joining Mujeres Activas de Letras y Cambio Social -- an
organization of women scholars -- who will be doing the same. (Incidentally, the
legitimacy of the Chicana/Chicano Studies itself itself has always, and continues to
be, under attack.)


Before Cuauhtemoc was executed, he is said to have left a "mandato," advising
the people to keep their cultural knowledge, teachings and traditions deep
within their hearts ... and that a time would come to once again reveal that
knowledge. Those who are aware of that mandato say the time is now.


COPYRIGHT 2004 UNIVERSAL PRESS SYNDICATE

MAIZ ES VIDA!
MEXICA
Courting the Latino Vote: Some Tips for 2004

By Frank Gómez

The Hispanic vote in this year will jump by 1 million to more than 7 million. Latinos are key to victories in many cities, states and Congressional districts. The campaign now underway in earnest, seekers of elective office will court the Latino vote intensely.

This cyclical process fascinates. Every four years Hispanics suddenly become the darlings of the major parties; the balance of the time they are largely an afterthought wooed for the prom and then nearly forgotten.

Latinos, however, are more visible today in government, in party structures, and on campaign staffs. Some are advisors to candidates for the Democratic presidential nomination. President Bush prides himself on his sensitivity to Hispanics. He won more than 35% of the Hispanic vote for a reason.

Mistaken attitudes, however, pervade approaches to Latino. Assumption one: candidates must speak Spanish to show that they are in touch. Wrong! Most Hispanic voters are second and third generation English dominant or bilingual citizens. Addressing them in Spanish comes across as pandering or patronizing.

Assumption two: a speech conveys genuine interest in this community. Wrong! Hispanics are as smart as everyone else. They know when someone discovered them only yesterday. They know who has spoken out, attended conferences, and sponsored or voted for legislation important to them.

So whats right? What DO you do? Here are some tips to bear in mind:

1) Speak about issues. Like other Americans, Hispanics are concerned about education (number one), jobs, the economy, national security, drugs, access to housing and medical care and other needs;

2) Relate the issues to the audience you are addressing; do some research and incorporate the outcomes into the remarks;

3) Recognize that Latinos, also like other Americans, are extraordinarily diverse. Do not assume homogeneity or uniformity, whether in ethnic background, issues or attitudes. Tailor your message to the locality and the audiences;

4) Dont think Spanish will do it for you. Spanish can go a long way in some localities, but most Latino voters vote with an English-language mindset;

5) Use Spanish strategically to reach Spanish language media; develop and use a Hispanic media plan. Print media alone reach more than 17 million people. Local media, whether in English or Spanish, or both, can extend significantly the reach of messages;

6) Hire advisors with broad experience and insights into the local, state or national Hispanic arena. Being Hispanic does not guarantee expertise. If your aides are not expert, dont pretend that they are. Get expertise elsewhere.

7) Spend time. In addition to a speech, meet with local leaders. Ask what THEY think. A 20-minute speech and back to the airport wont work. Engage! Plan events with maximum interaction and visibility, opportunities for substantive exchanges, dialog.

8) Be forthright and candid. If you dont have the track record, say so. If you have not been there, say so. Do not claim friendship with the community for years if that is not the case. Explain, and move on to the issues.

9) If you get Latino endorsements, but use them properly. Show knowledge of and respect for the endorser and his or her record, positions on issues, leadership.

There you have a short list. Now, the next person may have another. As the campaign unfolds, it will be interesting to see how candidates connect with Latino voters. The stakes are very high. An investment in thoughtful, culturally relevant and issue-related approaches will reap dividends.