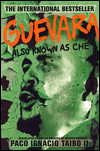 Guevara Also Known as Che
by Paco Ignacio Taibo
This book is a good one for an overview and analysis of Comandante Che Guevara's (RIP) life, passion, and accomplishments. What can we say? The brother represented everything a warrior should be. He always put his people first before him, he was always the first to enter the line of fire, and above all he was doing it in the name of love. Always the brother to seek justice and look for a way to inspire the people. Although his foco theory seemed a bit unrealistic his heart was in the right place and we are all still searching for the best way to engage the people. This book documents all his military exploits from the revolution of Cuba to Africa and finally in Bolivia. In our opinion, if you read between the lines, it appears that he may have been led on/tricked, or that he was unable to analyze his situation correctly because he was doomed the moment he decided to continue on with the expedition after no back up came from Cuba. He should have retreated and regrouped to come back at another angle considering media propaganda was working, which subsequently affected the engagement of the people, and most of his troop was captured and or killed. His spirit lives on! Que viva Che!!!
A critical study of the origins and development of Chicano radicalism in America, The Sixties Chicano Movement: Youth, Identity, Power, is the second edition of an acclaimed best seller. Filling an important gap in the history of political protest in the United States, this edition includes a new introduction, a chapter on the role of women in the movement, and an additional concluding chapter on the lessons to be learned from the role of Latinos and Latinas in the ongoing struggle for a multiracial democracy.




FILM RECOMENDATIONS

The Other Conquest (La Otra Conquista)

Directed by Salvador Carrasco

Filmed in Mexico. Rated R (1998)

Credits at the end of the Mexican film The Other Conquest (La Otra Conquista) tell us that the movie is about events during the first years of the Spanish conquest of México -- from the arrival of Don Hernán Cortés (1519) to the appearance of the Virgin of Guadalupe (1531). Written and directed by Salvador Carrasco, The Other Conquest is an epic film in Spanish and the Aztec language of Náhuatl, with the following tagline:

An encounter that is not forgotten.
A conversion that is never finished.
The spirit of a people transcends any conquest.
The spirit of a people can never be conquered.
American Family, the first drama series ever to air on broadcast television featuring a Latino cast, and the first original primetime American episodic drama on PBS in decades, first premiered in January 2002 and returns this fall with episodes from the first season, leading up to the April 2004 premiere of the second season.
Major funding for the American Family television series is provided by Johnson & Johnson, the American Legacy Foundation, the Corporation for Public Broadcasting and PBS.
American Family was created by Academy Award®-nominated director Gregory Nava (El Norte, Selena), and is produced by his production company, El Norte Productions and KCET/Hollywood in association with The Greenblatt Janollari Studio and Fox Television Studios. Copyright © 2001 Twentieth Century Fox Film Corporation.
The series is about an American family living in Los Angeles that happens to be Latino, says Nava. I wanted to create a show that will make the audience laugh and cry as it chronicles the daily struggles and triumphs of a family. American Family is about everyone's family.
American Family series regulars are: Academy Award® nominee, Edward James Olmos, Constance Marie, Rachel Ticotin, A.J. Lamas, Austin Marques, Kurt Caceres and Raquel Welch. The series will also feature special guest star Esai Morales and special appearances by Sonia Braga, and Mexican actress Kate Del Castillo in her first American television appearance.
American Family reveals the enduring strength of family in America today as it chronicles the lives of the Gonzalez's, residents of East Los Angeles. Jess Gonzalez (Edward James Olmos), the conservative patriarch, and his daughter Nina Gonzalez (Constance Marie), a feminist attorney, are constantly at odds with each other. Nina has moved back home following a family tragedy. She must make the difficult choice between her dreams of a career in Washington, D.C., or staying home to help raise Pablito, her brother Esteban's son. Esteban (Esai Morales) struggles to rebuild his life after serving time in prison. Flamboyant Aunt Dora (Raquel Welch) lives next door and adds some spice to everyone's life. All the while, Cisco Gonzalez (A.J. Lamas), the youngest sibling, secretly videotapes the family's antics and posts the family drama".
EL CRIMEN DEL PADRE AMARO
Hecho en Mexico
Directed by Carlos Carrera

ACADEMY AWARDS HISTORY
This is the sixth Academy Award nomination for Mexico.
A young priest assigned by his bishop to serve in a small village finds himself drawn into worldly temptation. Initially innocent yet deeply ambitious, he attempts to balance his attraction to a young village girl with his desire to become a force within the church hierarchy.The irony is that the movie is based on the novel by Eca de Queiros, first published over a century ago. Director Carlos Carrera (Under a Spell, Return to Sender) deftly updates the movie, placing nearly every element believably into current times.Amaro is a fresh priest, sent off to a remote section of Mexico. His ideals are intact, his morals pure, and he is eager to serve any way he can. What he finds shocks him. Padre Benito (Sancho Gracia, Common Wealth, I Won't Let You Down) has a mistress, Sanjuanera (Angelica Aragon, Bloody Proof, Picking Up the Pieces), and there is huge dissension amongst the priests. There are rumors that Benito is corrupt, as well as rumors that Padre Natalio (Damian Alcazar, The Blue Room, Pachito Rex) is working with guerillas. Amaro's temptation comes in the form of Amelia (Ana Claudia Talancon, The Comet, El Juego Sin Reglas), the beautiful young daughter of Sanjuanera. Amaro's lust for Amelia proves too much, and she is too innocent to resist.